Tonneau Cover Installation
We provide a variety of off road accessories and installation service to meet your needs.
We offer a variety of tonneau covers such as bed covers, bed liners, retractable bed cover, tonneau cover toolbox, truck bed security, truck bed protectors and more.
We install the following brands of Tonneau Covers
If you want the ultimate in truck bed security, you should take a look at bed covers. Unlike a camper shell, this type of truck bed protector is easy to move out of the way when you need to carry something tall. Since they use steel, aluminum and composite construction, opening them is nearly impossible without a key, discouraging would-be thieves. If you're more worried about protecting your cargo from weather than thieves, there are also affordable vinyl fabric options. Either way, we have you covered with products from three of the top manufacturers in the country.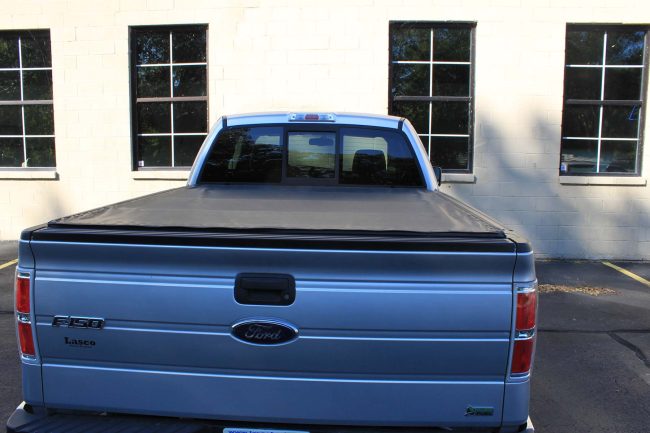 What are your options? Truxedo makes vinyl covers with auto tensioning systems, so they always lay flat when unrolled.
While most covers open in one direction or one section at a time, their Deuce cover rolls up at both ends. This makes it easy to access the front and rear of your bed.
Rextrax makes rolling covers out of of polycarbonate and aluminum, giving you the low profile of a vinyl top with the security of a hard tonneau cover.
If you want the ultimate in convenience, Retrax's covers can be upgraded with a power opening system that is operated remotely with a key fob.
BAK Industries makes their own hard rolling cover, as well as folding aluminum and composite covers.
Adding a cover is just one step toward turning your bed into a usable storage space. B Bak makes a tonneau cover toolbox called the BAKBox2.
This box fits under your retractable bed cover, and it can be positioned anywhere along the rails. That way, you have a place to store your tools without getting in the way of your other cargo.
TruXedo's TonneauMate storage boxes only have three positions, but they use the cover as the lid, maximizing storage space and accessibility.
Both tool boxes sit above the floor, so you still have space for plywood, sheet rock and other long items. TruXedo also makes cargo bags that fit around the wheel wells, letting you pack tools into what is normally unused space.
Regular bed liners are compatible with these covers, but you don't have to be stuck with a hard plastic surface. The B Bak BedRug is made from polypropylene carpet that's molded to your truck bed. This liner keeps cargo from sliding around, it's comfortable to kneel on, and it's extremely durable.
Do you find that your cargo light doesn't provide the illumination you need? TruXedo's B-Light system places LED lights under the bed rails, so you can see everything inside your bed.
If you want to make your truck bed more secure and easier to use, talk to the experts at A1 Tint Pros Plus. We do more than just window tint. Our technicians can install a tonneau cover and any other accessories you need to transform your bed from an empty box into a flexible storage space.
Get started by requesting an installation quote online, or give us a call at any of our locations.